After graduating from the University of North Georgia as a Distinguished Military Graduate (DMG), Blake commissioned into the Georgia Army National Guard and attended Flight School at Fort Rucker, Alabama, as an officer in the United States Army. Blake spent the greater part of two years learning to fly helicopters and airplanes, while simultaneously completing a master's degree in Tax Planning.
In 2018 Blake Co-founded Armis Advisers with a group of skilled and experienced financial professionals. As a Registered Investment Advisor, Armis translates 70+ years of experience in military mission-planning to financial planning, leveraging decades of financial experience into developing predictable and tax-efficient investment solutions. As an Investment Advisor Representative, Insurance Agent and Tax Expert, Blake services clients across the country, providing innovative financial solutions in an ever-changing world.
Blake's passion for tax extends beyond financial planning and into real estate investment and development. Blake Founded Mountain Realty Partners, a commercial development and real estate management firm, to leverage real estate investment opportunities against his expertise in tax planning and financial analysis. MRP targets tax-efficiency within sound real estate investment opportunities by implementing efficient tax strategies, such as Qualified Opportunity Zones (QOZs) and 1031-exchanges, to maximize after-tax return.
Blake takes pride in his professional career as an entrepreneur and financial planner and in his military career as a pilot and solider. Blake enlisted in the Georgia Army National Guard in 2009, attended Basic Training at Fort Leonard Wood, Missouri, and graduated from the US Army's Airborne School and the Republic of Georgia's Mountain Warfare School. As a Private, Blake was distinguished as the Solider of the Year for the state of Georgia and awarded the Meritorious Service Medal (MSM) for his professionalism and proficiency.
Blake lives in Northeast Georgia with his wife, Loren, and two sons, Nate and Noah. During his free time, Blake enjoys being with his family, learning, reading everything business and tax, as well as some poetry. Invictus by William Ernest Henley, If by Rudyard Kipling, and Do Not Go Gently Into That Good Night by Dylan Thomas are three works that inspire Blake in his life and career.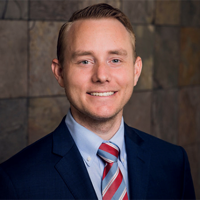 Blake R. Schaper, MST
Combine an entrepreneurial spirit with a passion for tax, financial analysis and real estate development, and you'll understand Blake Schaper.